was a radio magazine published in Providence in the mid 1920's.
, was the editor and it was issued on the 1st and 15th of each month by the Oxford Press at 8 Temple Street, Providence. Rhode Island. John F. O'Hara, Publisher. Yearly subscription in U. S. A., $3.00. Outside U. S. A., $3.50. Single copies, 15 cents.
The magazine changes names on the January 1st, 1926 issue to New England Radio Progress. Adding New England to the name. Their reason for changeing was described here. They also lowered the price at the same time. A sign of problems? Who knows but I have not found any issues or listings of issues after February 15th, 1926
Publisher John F. O'Hara - Born Feb. 27, 1873, at Taunton. Mass. ; learned printing on the Taunton News and Providence Journal, beginning in 1890 ; initiated into Providence Union Nov. 28. 1896; worked a short time on Pawtuxet Valley Gleaner before coming to Providence ; worked as linotype operator on Bulletin and Journal imtil 1906
; In August, 1907 Henry W. and John F. O'Hara organized The Oxford Linotype Composition Company.
Below are the issues I believe were published taking into accout the ones I have confirmed. There may have been more volumes than 1 & 2. Any information you may have would be appreciated.
Ideally I would like to find any issues of this magazine I can find. Next best thing would be a color pdf of the issue. After that a scan of the cover would be helpful. If you can help please let me know.

Volume 1 Issue 1
March 15th 1924 MB RR

PDF


Volume 1 Issue 2
April 1st 1924 MB RR RH

PDF


Volume 1 Issue 3
April 15th 1924 MB RR

PDF


Volume 1 Issue 4
May 1st 1924 MB RR

PDF


Volume 1 Issue 5
May 15th 1924 MB RR

PDF


Volume 1 Issue 6
June 1st 1924 MB RR DD

PDF


Volume 1 Issue 7
June 15th 1924 NYPL

PDF


Volume 1 Issue 8
July 1st 1924 MB RR DD

PDF


Volume 1 Issue 9
July 15th 1924 NYPL

PDF


Volume 1 Issue 10
August 1st 1924 NYPL

PDF


Volume 1 Issue 11
August 15th 1924 NYPL

PDF


Volume 1 Issue 12
September 1st 1924 NYPL

PDF


Volume 1 Issue 13
September 15th 1924 NYPL

PDF


Volume 1 Issue 14
October 1st 1924 RH


PDF


Volume 1 Issue 15
October 15th 1924 MB RR RH NYPL


PDF


Volume 1 Issue 16
November 1st 1924 MB RR RH


PDF


Volume 1 Issue 17
November 15th 1924 MB RR DD


PDF


Volume 1 Issue 18
December 1st 1924 MB RR RH NYPL


PDF


Volume 1 Issue 19
December 15th 1924 RR DD NYPL


PDF


Volume 2 Issue 20
January 1st 1925 MB RR DD


PDF


Volume 2 Issue 21
January 15th 1925 MB RR DD RH


PDF


Volume 2 Issue 22
February 1st 1925 RR DD RH


PDF


Volume 2 Issue 23
February 15th 1925 RR DD RH


PDF


Volume 2 Issue 24
March 1st 1925 NYPL


PDF


Volume 2 Issue 1
March 15th 1925 MB RR DD RH


PDF


Volume 2 Issue 2
April 1st 1925 MB RR


PDF


Volume 2 Issue 3
April 15th 1925 MB RR DD


PDF


Volume 2 Issue 4
May 1st 1925 MB RR DD


PDF


Volume 2 Issue 5
May 15th 1925 NYPL


PDF


Volume 2 Issue 6
June 1st 1925 MB RR DD


PDF


Volume 2 Issue 7
June 15th 1925NYPL


PDF


Volume 2 Issue 8
July 1st 1925NYPL


PDF


Volume 2 Issue 9
July 15th 1925 NYPL


PDF


Volume 2 Issue 10
August 1st 1925 NYPL


PDF


Volume 2 Issue 11
August 15th 1925 RH

PDF


Volume 2 Issue 12
September 1st 1925 RH


PDF


Volume 2 Issue 13
September 15th 1925 RR DD RH


PDF


Volume 2 Issue 14
October 1st 1925 MB RR DD


PDF


Volume 2 Issue 15
October 15th 1925 NYPL


PDF


Volume 2 Issue 16
November 1st 1925 MB RR DD RH


PDF


Volume 2 Issue 17
November 15th 1925 NYPL

PDF


Volume 2 Issue 18
December 1st 1925 RH


PDF


Volume 2 Issue 19
December 15th 1925 MB NYPL

PDF


Volume 2 Issue 20
January 1st 1926 NYPL

PDF


Volume 2 Issue 21
January 15th 1926 NYPL

PDF


Volume 2 Issue 22
February 1st 1926 NYPL

PDF


Volume 2 Issue 23
February 15th 1926 NYPL

PDF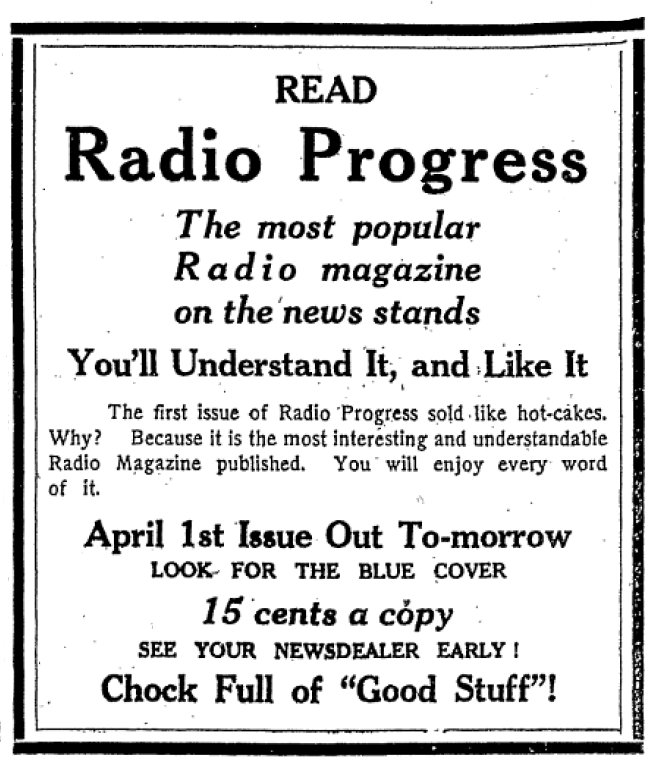 Click to enlarge
Providence Journal
March 30, 1924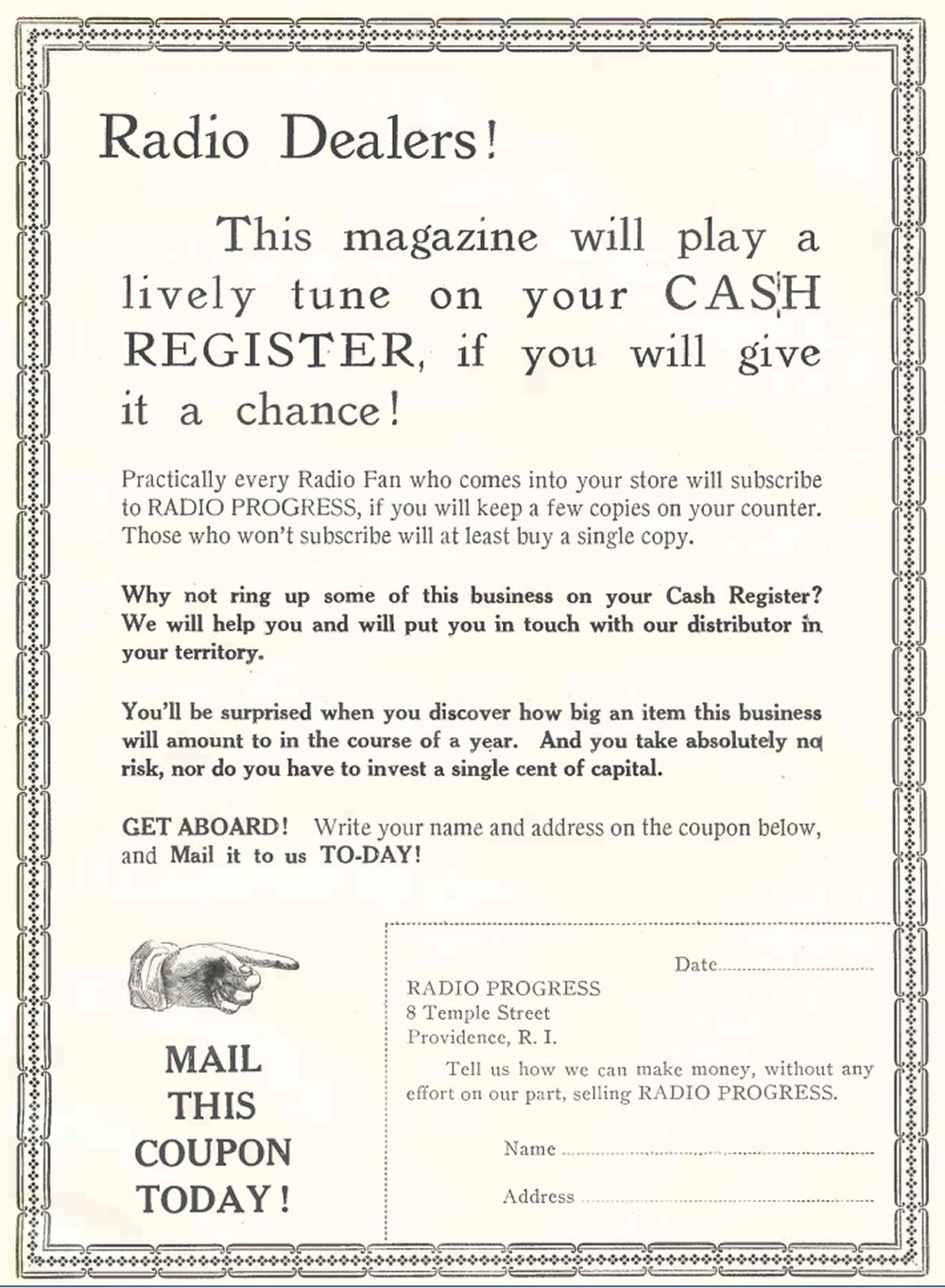 Click to enlarge
Radio Progress
March 15, 1924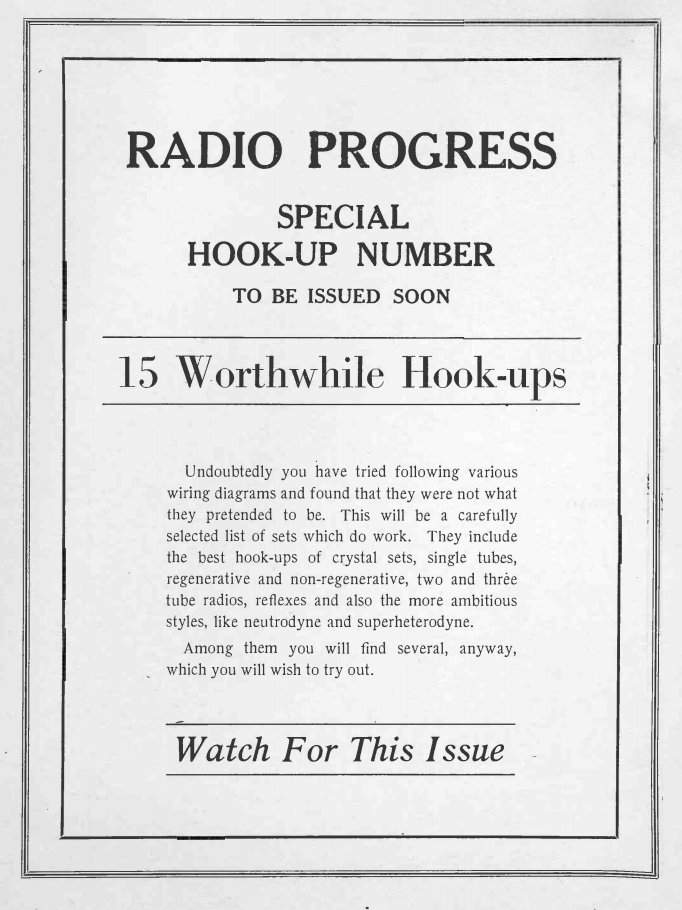 Click to enlarge
Radio Progress
November 1, 1924_3


Click to enlarge
Radio Progress
March 15, 1924


Click to enlarge
Radio Progress
November 1 1924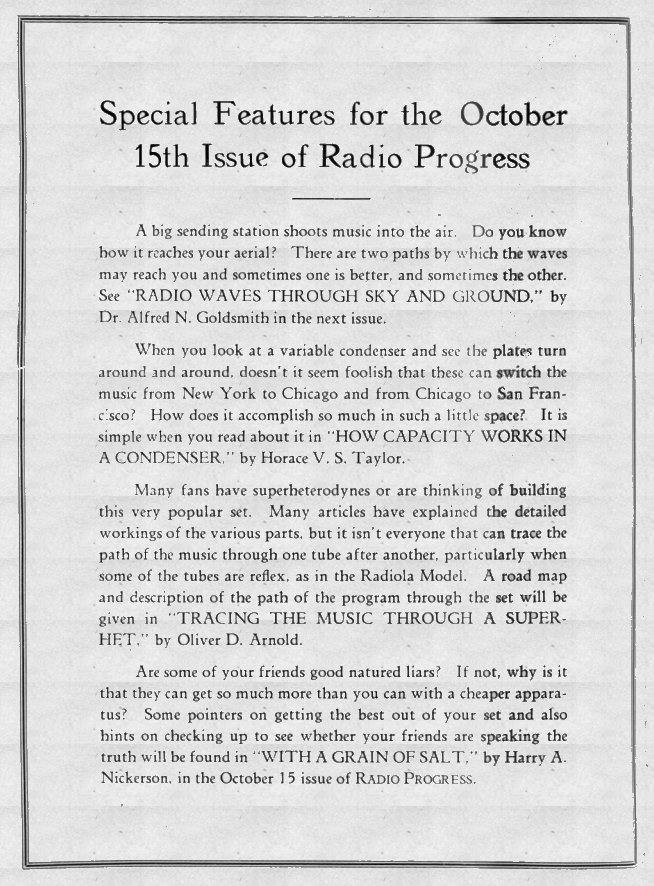 Click to enlarge
Radio Progress
September 15 1924


Click to enlarge
Radio Progress
April 15, 1924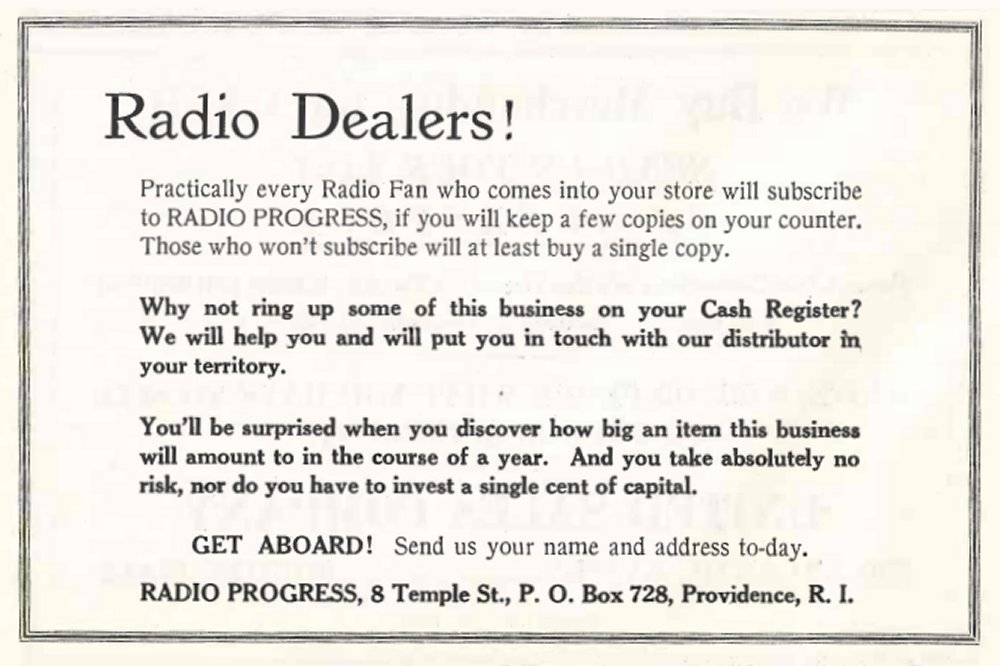 Click to enlarge
Radio Progress May 1, 1924


Click to enlarge
Radio Progress March 1, 1924


Pawtucket Times
November 21, 1925




Radio Progress
November 1, 1925

Click to enlarge
The Cincinnati Enquirer March, 5, 1958



Click to enlarge
The Cincinnati Enquirer
January 14, 1968