The first mention of Prague is an ad in Electrician and Mechanic in 1908
Electrician and Mechanic, July 1908.
In 1909 there is a report of two Providence wireless companies filling Navy contracts, Prague Electric Company from Providence and Massie Wireless Telegraph Company
2
. Also in 1909 there were some interesting ads for Prague in the Providence Journal:
Providence Journal March 31, 1909.
Providence Journal April 4, 1909.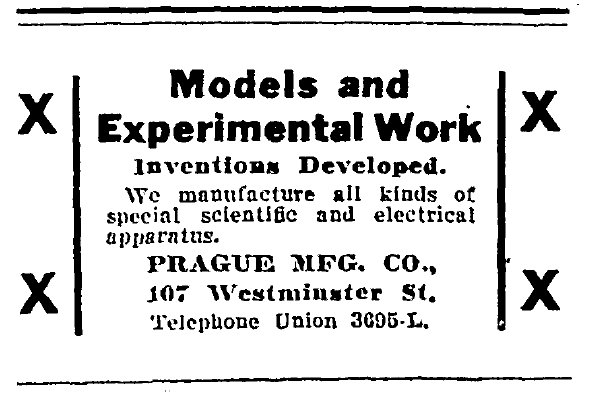 This ad ran repeatedly in the
Providence Journal from March 31, 1909 to May 26, 1909.

Electrical Record
and
Buyer's Reference
Volume 6
December 1909.
The McGraw Electrical Directory in 1910 their address is listed as 107 Westminster Street in Providence
5
. In 1911 they are listed in the Electrical Record as making X-Ray Outfits
7
.In 1914 there is a listing of some of their equipment in the book Wireless Telegraph Construction for Amateurs
1
by Alfred Powell Morgan. Also in 1914 there are listings for Prague making Wireless equipment and pottery bases for lamps
3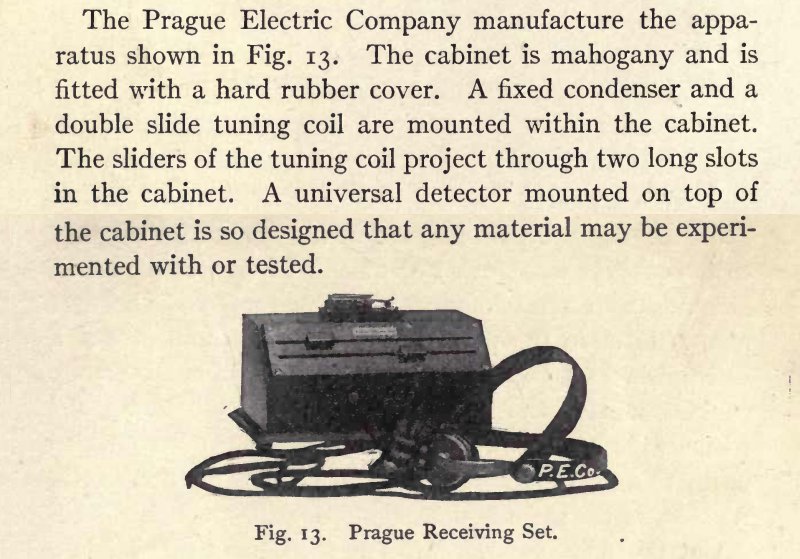 Wireless Telegraph Construction for Amateurs 1914
In in 1915
6
& 1916
4
they were listed as just making X-Ray equipment.
Wireless Telegraph Construction For Amateures
By Alfred Powell Morgan
D. Van Nostrand Company
Third Edition
1914
Rhode Island Made Wireless Used By The Navy2





In 1909 The Electrical Review, Volume 54 listed the 9 companies that bid for the installation of 7 complete wireless outfits. It is interesting to note that 2 of the 9 were from Rhode Island.

Namely

Massie Wireless Telegraph Company

and Prague Electric Company. Both from Providence
1
Wireless Telegraph Construction for Amateurs
2
Electrical Review Volume 54, 1909
3
Electrical Record and Buyer's Reference, Volume 16, 1914
4
Electrical Review and Western Electrician, 1916
5
McGraw Electrical Directory, 1910
6
Electrical Review and Western Electrician, 1915
7
Electrical Record, 1911