Click to enlarge
Providence Journal
January 4, 1925
In March of 1926, the portable station seems to have landed in P H Opio Company Department Store in Westerly.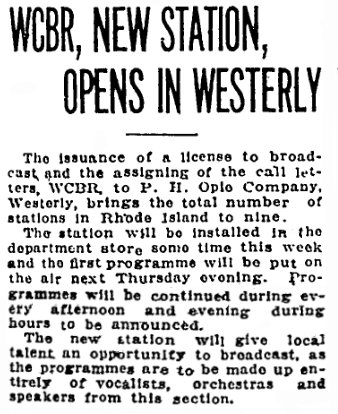 Pawtucket Times
March 10, 1926
The portability of the station was demonstrated in 1926 with ads/articles found at 4 different locations in 7 months and it switched from 209.7 meters to 234.2 meters.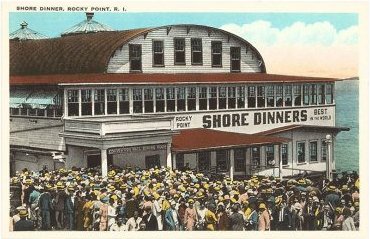 WCBR spent much of its first year travelling all over New England. Messter was invited to appear in communities as far north as Portland, Maine. Eventually, Messter took his station back to Rhode Island, where he set it up at fairs, theatres, and amusement parks. When it broadcast from Rocky Point Amusement Park during the summer of 1926, Just after the famous Shore Dinner Hall was built, WCBR had 100 watts and could be found at 210 meters (1430 kc). At some point later in 1926, Charles Messter returned to selling radio equipment (he also managed several small theatres);
WCBR's appearances decreased as the novelty of portables wore off.
2
WCBR's final death blow came from the Radio Commission in April of 1927 when they cracked down on portable station and required their locations to be permenant to obtain an licence.
Click to enlarge
Providence Journal
April 22, 1927
It seems, despite the Radio Commissions ruling, WCBR did broadcast at least one time in July of 1927 as found is this ad.
Click to enlarge
Providence Journal
July 9, 1927