Nikola Tesla did have a Rhode Island connection other than his article in the book by Massie and Underhill. Throughout 1909 and 1910 the inventor shuffled back and forth between Providence, Bridgeport, and New York City, where he had installed various renditions of his turbines. This ia noted in November 23, 1909 corrospondence between Tesla and George Scherff his personal scretary. Then in corrospondence between Tesla and the Westinghouse company it is stated the company where Tesla was working with in Providence was the Corliss Company. The Galena below makes the connection to Corliss.
1
On the subject of Tesla's Galena, this is a converstaion between
Fred Jaggi
and Bob Merriam, 2012, trancribed by Craig H. Moody.
Bob - Locally, there is an amusing incident to me, because this is the museum of wireless and steam, and the George Corliss Steam Engine Company was in pretty hard shape at the beginning of this century, in fact, they were essentially out of business…nobody was buying steam engines anymore…at least of the Corliss type…and so they tried to diversify into the radio business, and they changed the name of the company to the American-British Company, and experimented with wireless. And according to the father of one of our early volunteers here, the American British Company hired Tesla to come up here and experiment on radio, and that hunk of galena back in the corner…there's a picture of it here…supposedly was acquired by Tesla to carry on his experimentation.

Fred – "Were they successful?"

No, the American British failed very quickly




Curtesy of New England Wireless and Steam Museum
Here is an article from the Antique Wireless Association's, "Old Timers Bulletin", Volume 6, No. 4, explaining how Ed Cummings found the Galena and how he attributes it to Tesla.
In the mid-1880s, Corliss closed his plant to turn it into an assembly-line operation, but he died at 72, before he could finish.
The firm was bought by International Power Co. in 1900, then American & British Manufacturing Co. five years later. In 1925, it was merged into Franklin Machine Co.
2

Click to Enlarge



Click to Enlarge
From the book "Rhode Island Industries Cataloged", 1636-1904


Click to Enlarge
From the book "Rhode Island Industries Cataloged", 1636-1904



Providence Journal April 16, 1906




teslascience.org

Providence Journal
November 2, 1909



The Stevens Institute Indicator January 1910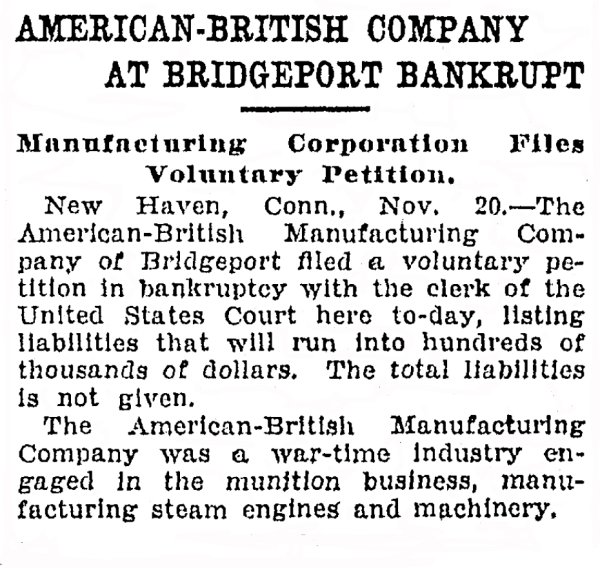 Providence Journal November 21, 1923



Nikola Tesla Business Card



Nikola Tesla Business Card Back
Note to Karl Ferdinand Braun



My dear Prof. Braun,

"It's a bad wind that blows no good."

You should be happy that the English steamer that brought these peaches from South Africa happily escaped the submarine!

Sincerely, your obedient
N Tesla



Curtesy of New England Wireless and Steam Museum