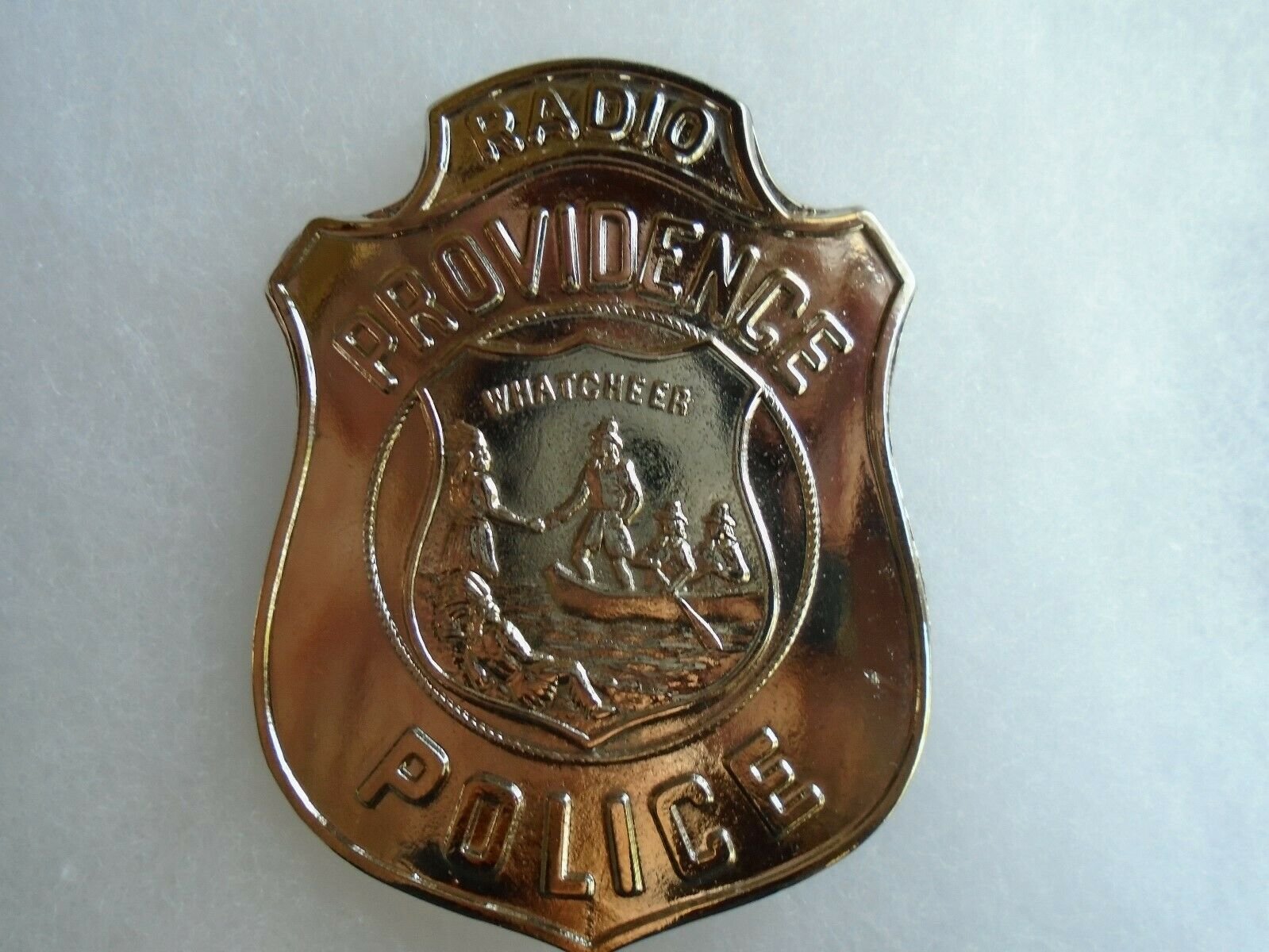 A special "Mobile Radio Police Patrol" badge from 1941. In October of that year, the Providence Police Department installed two way radios in department sedans and motorcycles, replacing the one-way AM radios that had been in use since the 1930s. As part of a cooperative effort with the public, 26 amateur radio operators were sworn in as "mobile radio patrolmen". Under the direction of the Rev. Charles J. Mahoney, they assisted the police and worn miniature badges identical to this one. (Providence Public Library)

Providence Journal December 20, 1923



Providence Journal January 18, 1931


Providence Journal January 25, 1931


Providence Journal February 4, 1931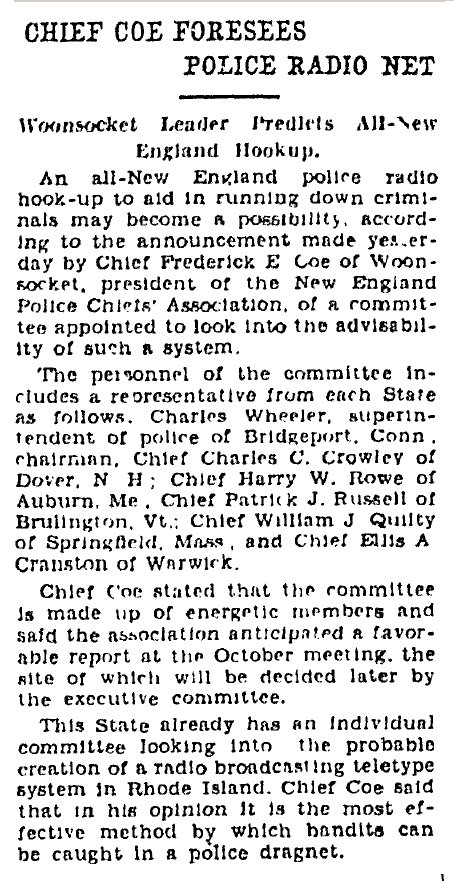 Providence Journal June 16, 1931


Click to enlarge
Providence Journal October 4, 1931


Click to enlarge
Providence Journal October 19, 1931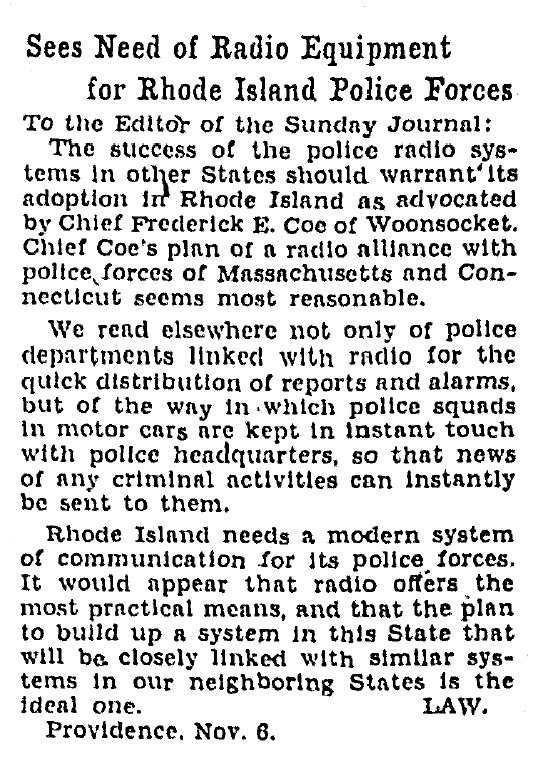 Providence Journal November 8, 1931


Providence Journal December 23, 1931


Providence Journal January 13, 1932


Providence Journal January 16, 1932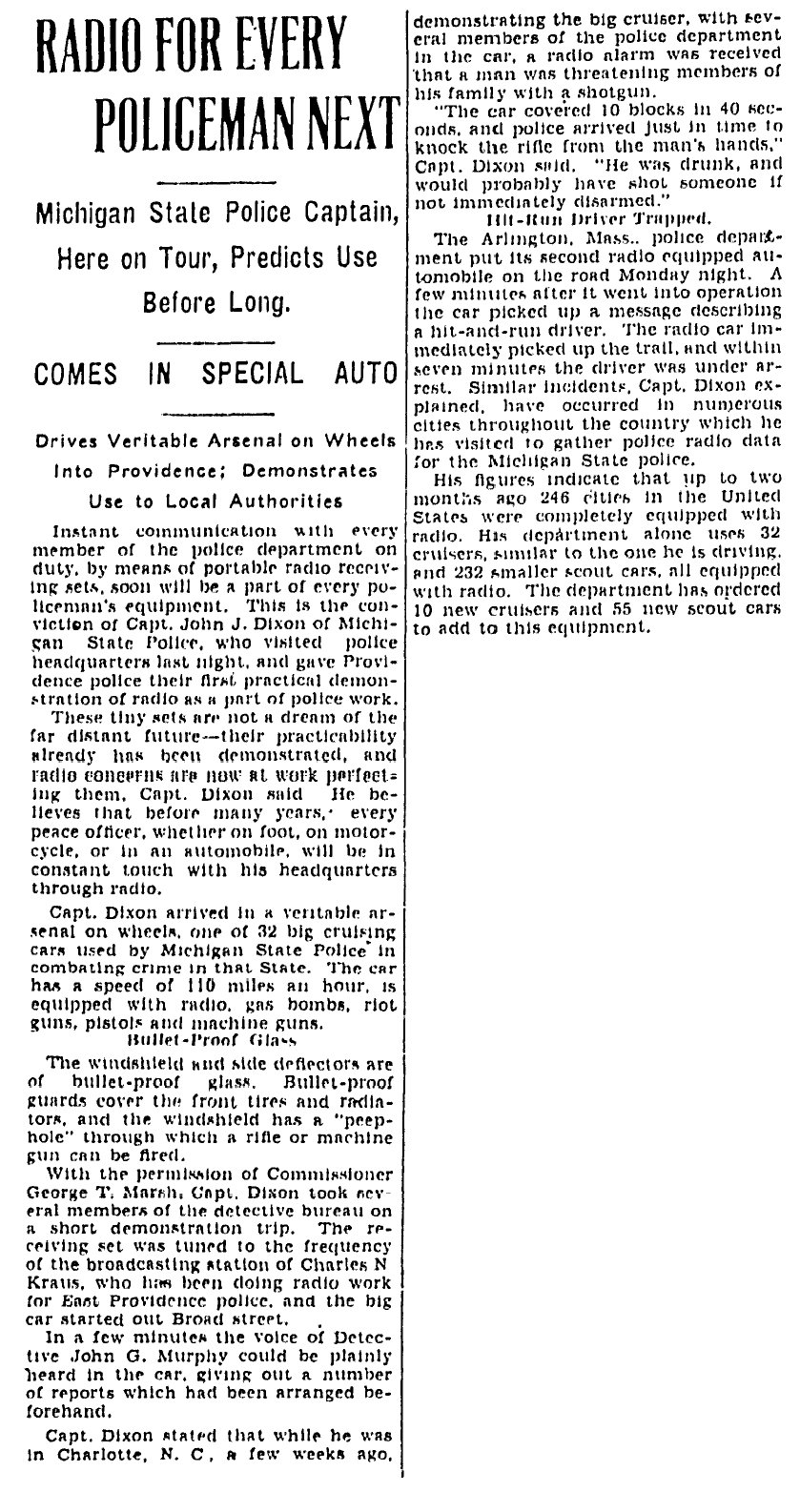 Click to enlarge
Providence Journal January 21, 1932


Providence Journal January 21, 1932



Providence Journal February 1, 1932

Pawtucket Times
February 3, 1932

Providence Journal February 4, 1932



Providence Journal February 12, 1932


Click to enlarge
Heinl Radio Business Letter
February 19, 1932
Applications Granted



Providence Journal February 20, 1932


Click to enlarge
Heinl Radio Business Letter
March 18, 1932
Applications Granted



Providence Journal May 17, 1932



Providence Journal May 18, 1933


Click to enlarge
Heinl Radio Business Letter
May 18, 1932
Application other than Broadcasting



Click to enlarge
Heinl Radio Business Letter
June 7, 1932
Application Granted


Pawtucket Times
August 4, 1933


Pawtucket Times August 4, 1933


Click to enlarge
Pawtucket Times August 8, 1933


Click to enlarge
Pawtucket Times August 10, 1933



Pawtucket Times August 25, 1933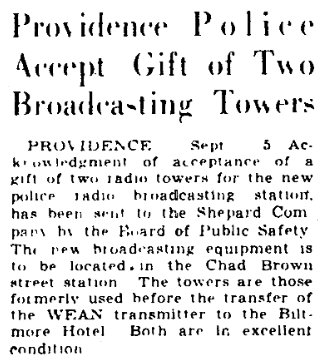 Pawtucket Times
September 5, 1933



Providence Journal September 14, 1933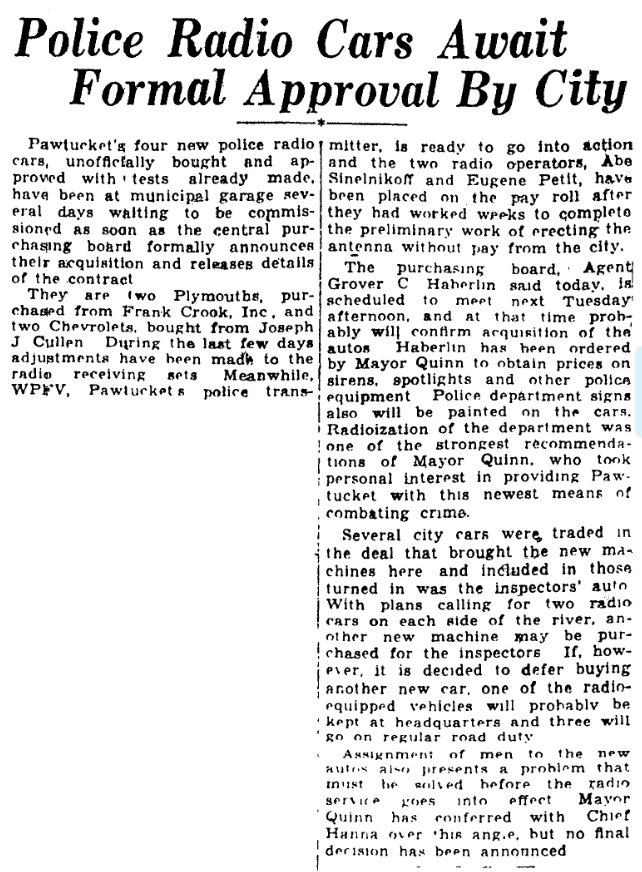 Click to enlarge
Pawtucket Times October 13, 1933


Pawtucket Times October 28, 1933


Providence Journal November 6, 1933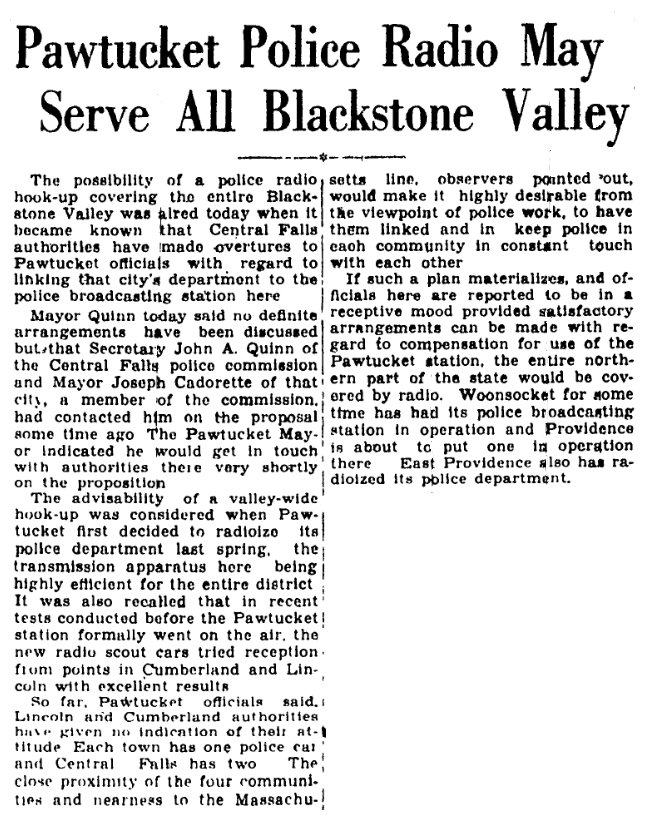 Pawtucket Times November 9, 1933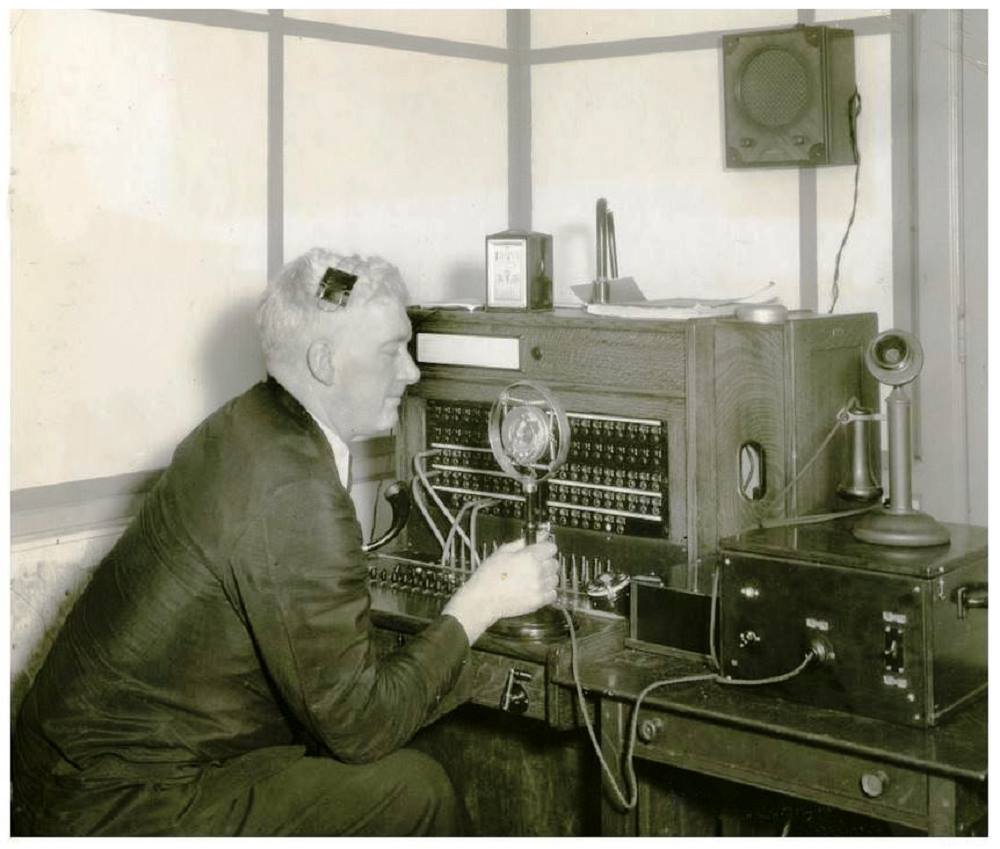 The WPEY Police Radio Station at Chad Brown, 1933
In the Fall of 1933, the Providence Police Department laid plans for eqiuiping its police cars with radios. This AM system only allowed the cars to hear instructions from the new dispatch radio, located in the Chad Brown Street staion. The officers would have to use the Police call box to talk to the station. The new stations call letters were designated to be WPEY. The transmitting equipment was donated to the department by the Cherry & Webb company (WPRO) and the

steel tower by the Shepard Company (WEAN)
. WRRO also donated their chief engineer,
Howard Thornley
to oversee the project. The wavelength would be 1712 kilocycles.


Providence Journal September 16, 1933

At first confusion was expected due to the East Providence Police being assigned WPEI. They also used the same frequesncy of 1712 kilocycles. To this end the call letter were changed to WPGP in September of, 1933.
Providence Journal September 17, 1933


Providence Journal September 20, 1933



Pawtucket Times October 18, 1933


November 23, 1933 brought a new switchboard to the station to go along with the new radio system. This brought 17 scatterd lines into one switchboard with the number GAspee3121.

Providence Journal November 23, 1933


On December 1st, 1933 the new Station was operational.

Providence Journal November 17, 1933


Testing of the station was successful on December 2nd, 1933.
Pawtucket Times January 2, 1934
Pawtucket Times January 4, 1934
This 1934 ad shows allthe Rhode Island Police calls and their frequencies.
In 1937, the system was changed to a two way system. This was not done with new equipment but rather by Chief Radio Engineer Perry Briggs from old parts of radios which were lying idle at the Potters Avenue station. The setup worked perfectly and had a 4 mile radius. Operation was as follows, a transmitting set operating on 30,100 kilocycles at 7 watts was installed in a cruiser together with a telephone head set. The observer lifts the receiver, gives his US License number, W1XEO, and talks directly to the station, his voice coming in over an ordinary receiving set. Answers are sent by telephone to the control room of WPGF at Chad Brown street station and sent over the air by the regular announcer.
The license for WPGF was renewed in 1937 and 1938.

Pawtucket Times November 6, 1937
Providence Journal April 15, 1937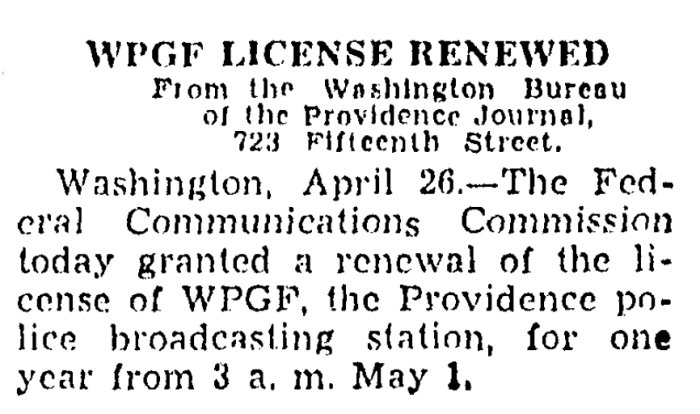 Providence Journal April 27, 1938
Pawtuckt Times June 19, 1940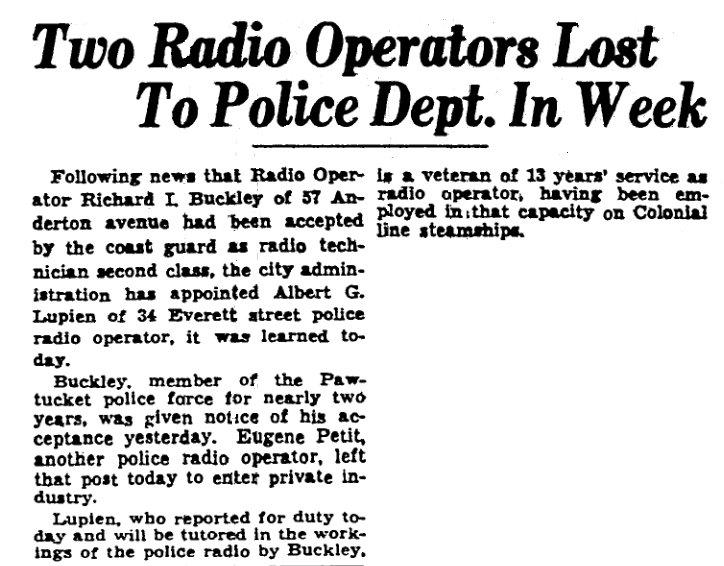 Pawtucket Times September 18, 1942


In 1946 the station was struck by lightning and was off the air for 3 1/2 hours.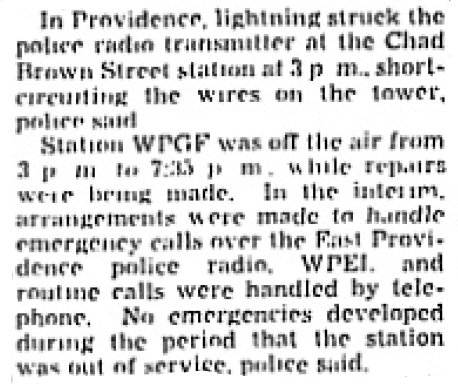 Providence Journal June 6, 1946





In 1947 job classifications of Radio Engineer and Radio Mechanic were established as a non police position.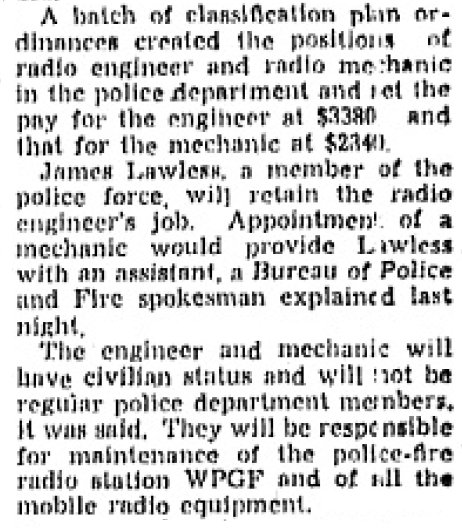 Providence Journal January 7, 1947


On July 4th, 1947 the transmiter was jammed with calls for street fires, gangs and fireworks.

Providence Journal July 4, 1947


In December of 1948 the received a bid from Motorla for a new 2 way FM system for the station.

Providence Journal December 28, 1948


On April 29th the FM system was turned on. At first the station operated on both AM and FM and 22 motorcycles were equiped with the radios. It will use both AM and FM untill all the cars are also equiped.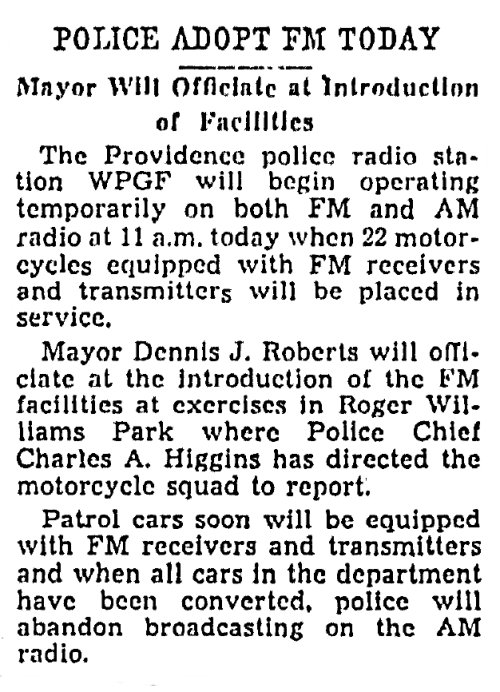 Providence Journal April 29, 1949


In 1949 the FCC changed the call letter to KCA574. The change occured on October 24 1949. After 16 years WPGF was gone!

Westerly Radio Badge