Providence Journal May 21, 1916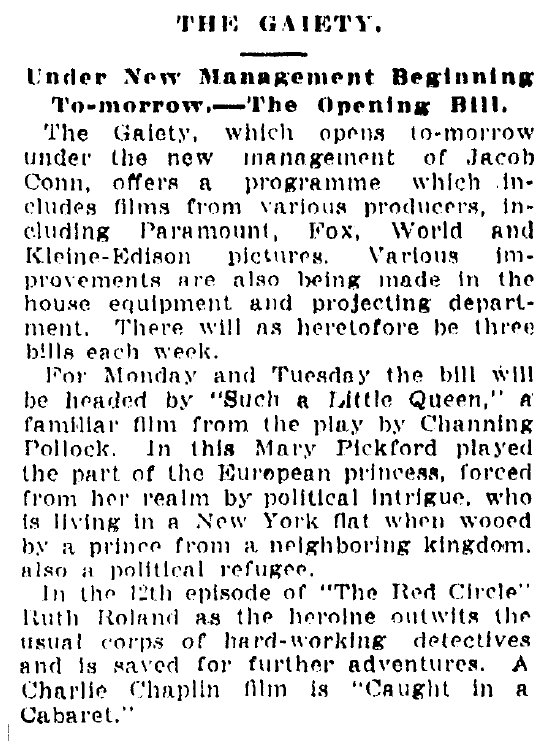 Providence Journal May 21, 1916
The year WCOT opened has a descrepancy. broadcasting.wikia.com states that it opend in June 1927. The license was only on the books for about 1 year at 1330 khz (225 meters), June 30, 1927-June 30, 1928
4
. This comes into question in an article from May 1927 that states that the Government reallocated the frequencies and power of staions all over the country. WCOT changes from 1330 khz (225 meters) to 1131 khz (265 meters).
13
Jacob Conn was born November 24th 1878.
2
He married Rebecca Ludek on February 2nd 1902 in Manhattan, New York
11
They had 4 children, Cecilia M, Gertrude N, Morris H and Florance.
12
He had a very interesting life story:
Captain Jacob is one of the few citizens of Concord who has climbed from obscurity to prominence in a comparatively few years—and this in spite of serious handicaps. Without money, lacking education and with but a slight knowledge of the English language, he came to this country sixteen years ago and through sheer grit and indomitable prominence the, penniless immigrant youth has been changed into an educated and respected citizen, militia officer and theatre owner. The story of his life reads like the most imaginative page of ?ction for this metamorphosis was worked in the short span of sixteen years.

Jacob was born of poor but respectable Jewish parents in Stralkowo, in the Province of Posen, Germany, in the year 1878. The quiet atmosphere of home life never interested him to any great degree and as a mere boy he engaged in the dangerous trade of bartering horses over the Russian frontier. At the age of eighteen he left home and went to London, England, where he secured employment in a tailor shop. Here he remained until the Spanish-American war had been in progress for several months when he sailed for America to enlist, if possible, in the cause of the United States. After a variety of misfortunes, including two shipwrecks, he arrived in New York on September 21, 1898, with but a Sixpence in his pocket.

He was considerably disappointed over the fact that the war with Spain had been ended while he was on the ocean and that an opportunity to fight, for his adopted country was lost, but the eighteen-year-old youth secured work at his trade and soon earned money to go to Boston, from which city he later moved to Concord. Here he worked for his brother for about a year and on January 16th 1900, opened his own tailoring establishment on School Street on borrowed capital of $2.50.

With the beginning of his career in the tailoring business came his enlistment in Company C of the. N. H. N. G. By diligence and hard work he saved considerable money and gained a fair education for as he sat on the bench working the needle, one eye was glued on a text-book of history or grammar which lay beside him. Following his marriage in l902, he engaged in the real estate business with a great degree of success so that when ?re destroyed the old Durgin factory on School Street in 1911 he had enough to purchase the ruins. Working nights in the tailor shop, he spent his days cleaning up the immense heap of blackened bricks.

In June, 1911, the cornerstone of his theatre was laid and on October 14 of the next year it was completed and under his management has been most successful ever since. His intentions now are to erect another larger modern picture theatre on the Pleasant street site of the old Dunklee stables.

By displaying the same hearty interest in state militia affairs that he did to his business, Mr. ascended the successive rounds of promotion until on January 1914, he became captain of Company C which office he still ?lls in a most creditable manner. In every phase of municipal affairs he is deeply interested and has thrown his theatre open time and time again without charge in the interests of civic uplift. The fact that he has recently relinquished his tailoring business and will devote his whole effort to the theatrical ?eld gives him a wider opportunity to interest himself in the affairs of the city and state. 16
In 1928 while running for Mayor of Providence, he used WCOT to attack and defame his opponents according to the Boston Globe.
3
This also is one of the many reasons that caused WCOT to loose it's licence. The Federal Radio Commission ruled that it was not in the public interest to use radio for personal controversy, slanderous attacks on individuals or the exploitation of the personal views and business of the licensee. Jacob Conn was found to have used WCOT for many of these reasons.
6
Another reason he lost the license could have also been because he was a socialist and got caught up in the First Red Scare in the US.
15
WCOT also has an interesting connection to another infamous radio engineer in Rhode Island. In Radio Digest (Mar 1928-Oct 1929) the WCOT announcer is listed Coto-Coil engineer,
Lewis S Bellem Jr
.
14
Jacob Conn also wrote a movie. The movie was entitled Found Alive (1933). It was described as "A youngster taken to a jungle by his mother and her butler to avoid losing his custody to the father in a messy divorce, is now a teenager with curiosity about his past, strangers, and native girls..."
8
The New York Times was not kind in it's review of the movie. The 1934 review read "A Jungle Melodrarna. It is the misfortune of the exhibit "Found Alive" that, in addition to its numerous and obvious dramatic failings, it also lacks the technical expertness which makes the average Hollywood film easy to look at even when it is bad. The story of this film, which is at the Cameo, deals with a divorced mother's efforts to hide her son below the Rio Grande after the court awards him to the father. It was evidently contrived to add a dramatic motif to a few reels of tepid jungle scenes. The photography is amateurish and the acting is less than adequate. In a word, "Found Alive" might better have been left undiscovered."
9