Charles O Cressy was born in December 5, 1888
2
in New York to George P and Aurelian F Cressy,
1
.
He married Edith Foster and they had 2 children, Charles O Cressy Jr. and Judith C Cressy
2
.
He was awarded second honors in Geography from the University School in Providence in 1901.
Pawtucket Times June 14, 1901
In the 1910 Census he is listed as a Wireless Engineer
1
For a year, until 1909, Mr. Cressy served with the
Massie Wireless Telegraph
in every capacity from operator to junior engineer. Following his employment he devoted two years to independent radio research.
In 1913, he assumed a Government position as radio expert and was placed in charge of communications with Santo Domingo.
The first successful radio station in this territory was installed and conducted by Mr. Cressy. During the Spanish revolution, he, like many others, became involved in local politics, and while pursuing his duty on a gunboat, enjoyed bombardments, blockades and other interesting incidents of the revolution.
In 1914 and 1915 Mr. Cressy served as operator and engineer with the Marconi Company, with location at the transatlantic station at New Brunswick, N. J.
During 1916, Mr. Cressy's services were engaged in his home state by the R. I. Naval Militia and from 1917 to 1919, he served in the United States Navy starting as Ensign and first serving as Radio Officer of the North Atlantic Patrol Squadron No. 1, with headquarters on the
U.S.S. Chester
. Here he served on the staff of Admiral (then Captain) Hillery P. Jones.
In August 1917, Mr. Cressy was transferred to European duty, becoming special convoy Radio officer. In March 1918, he undertook the exacting duties of Aviation Radio instructor. In this branch alone, his experiences would fill many a volume. Finally Mr. Cressy was assigned to St. Nazaire as Radio Officer of Base No. 8, in charge of all radio material and personnel. He continued in service here until the end of the war, finishing with the rank of Senior Lieutenant.
During 1920 and 1921 he was attached to the Headquarters of the U. S. Naval Reserve, serving as radio instructor on land and during sea cruises.
From 1922 to August 1924, he was Sales Manager of the
Coto-Coil Co
., and later organized the
Eastern Electric & Mfg. Co
., producing radio sets and coils.
3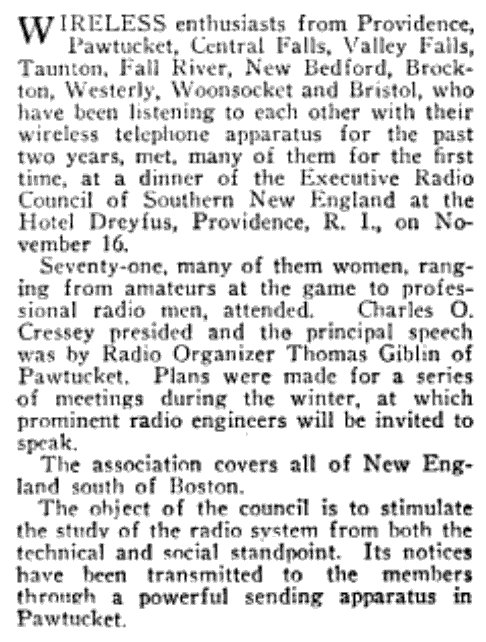 Experimenters World
January 1922
In June of 1927, Cressy is one of many Amateurs who picked up Bryds Trans-Atlantic flight.

Providence Journal
June 30, 1927
Also in 1927 Cressy becomes a Sales Engineer with the
CeCo Tube Company
.

Radio World
October 8, 1927
In 1930 Cressy has moved to the
Triad Tube Company
as a Field Supervisor.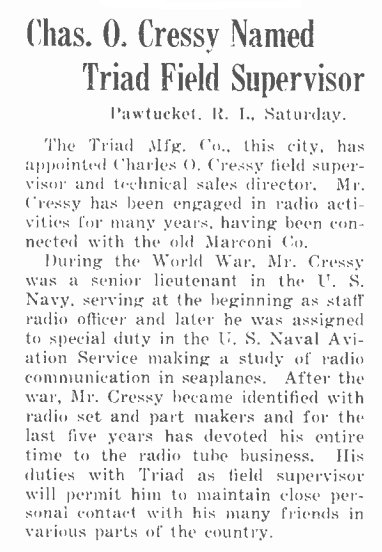 Talking-Machine-Radio-Weekly
Apri l2, 1930
Cressy died September 6, 1957.
Providence Journal
September 8, 1957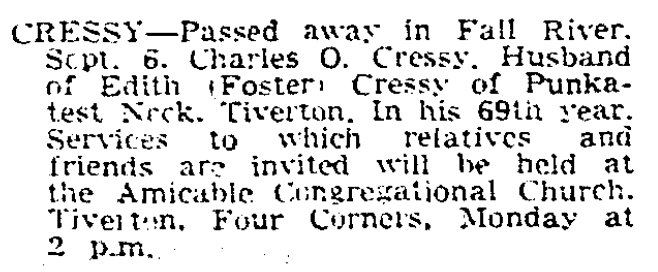 Providence Journal
September 8, 1957
Providence Journal
September 10, 1957
PATENTS